Task completion time does not tell the whole story of efficiency. Perceived efficiency, or how fast the task felt, is just as important. This project showed us how visual design and information architecture affected users' perceived efficiency.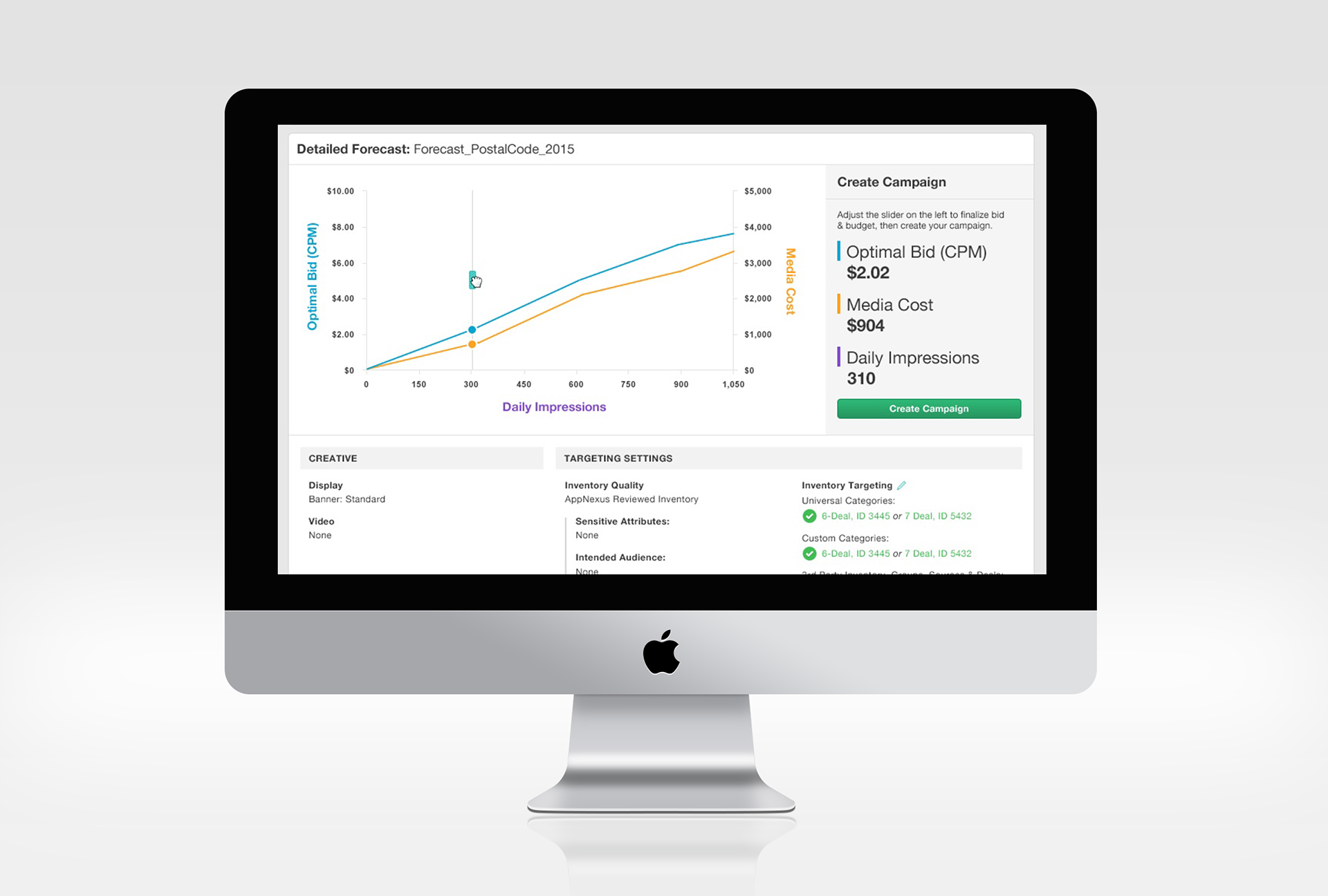 The Challenge
Companies send a Request for Proposal (RFP) to agencies that can run their next advertising campaign. Account managers from these agencies are responsible for deciding whether or not to bid on it within a few hours. Today they make educated guesses that are often inaccurate and cost the agency money. We wanted to change that and give account managers the appropriate insights to respond more accurately.
The Users
Our team held client interviews with account managers to help us better understand their daily duties and also who they are as people. They are the bridge between clients and the internal trading team. When they are not coordinating with traders who are managing active campaigns, they are seeking out business and responding to RFPs from prospective clients.
Personality of account managers differed, but there were some commonalities: 
- They appreciate data and data driven decision making.
- They switch tasks a lot due to their varying responsibilities.
- They are motivated by making the company more money.
- They are personable, especially with their clients to keep a good relationship.
- They dress quite casually in the office, but dress up when they need to meet with clients. 

Competitive Research/Audit
It is important to understand what our competitors offer but it's also important to study other tools that people use outside of our Ad Tech domain. We took a look at forecasting tools in AdWords, Facebook, Google Weather and Fidelity. 
Here were the similarities:
- Use of symbols or colors to help visualize forecast results
- The closer the timeframe, the more accurate the forecast. Example: A weather forecast for tomorrow is more likely to be accurate than one for 12 days out. 
 - One primary piece of information is emphasized so that users can make a quick decision based on forecast results. Example: Average daily temperature (Google Weather) or available impressions (AdWords). 
- Forecast results change in real-time based on your inputs (date, time, etc.) 
Initial Sketches
I spent a few early mornings in the office with my headphones on jamming to music while sketching ideas on the whiteboard. They were very quick and dirty sketches so that I could iterate quickly and easily discarding bad ideas without getting attached. I showed whiteboard sketches to product managers and engineers to get their input.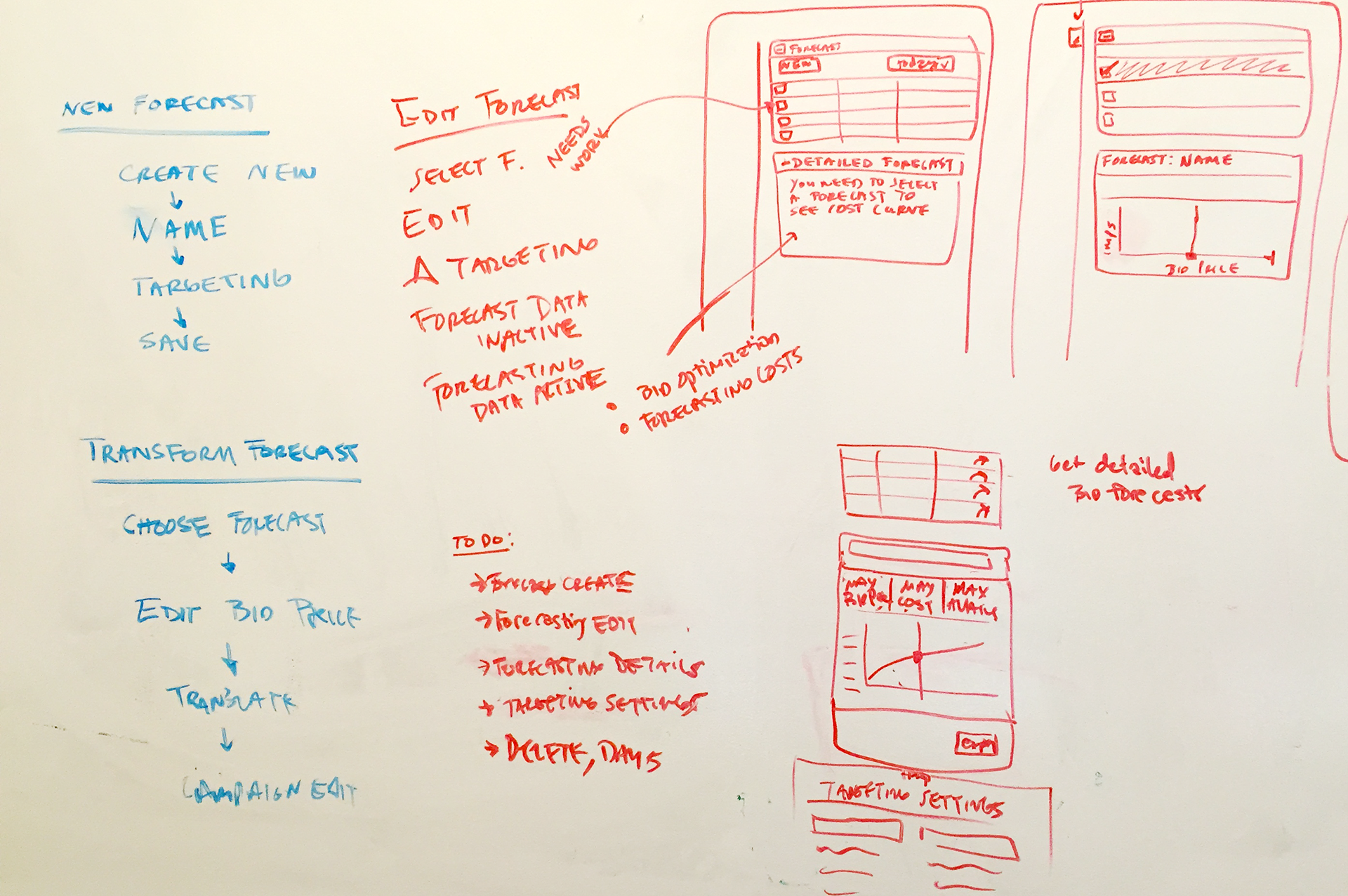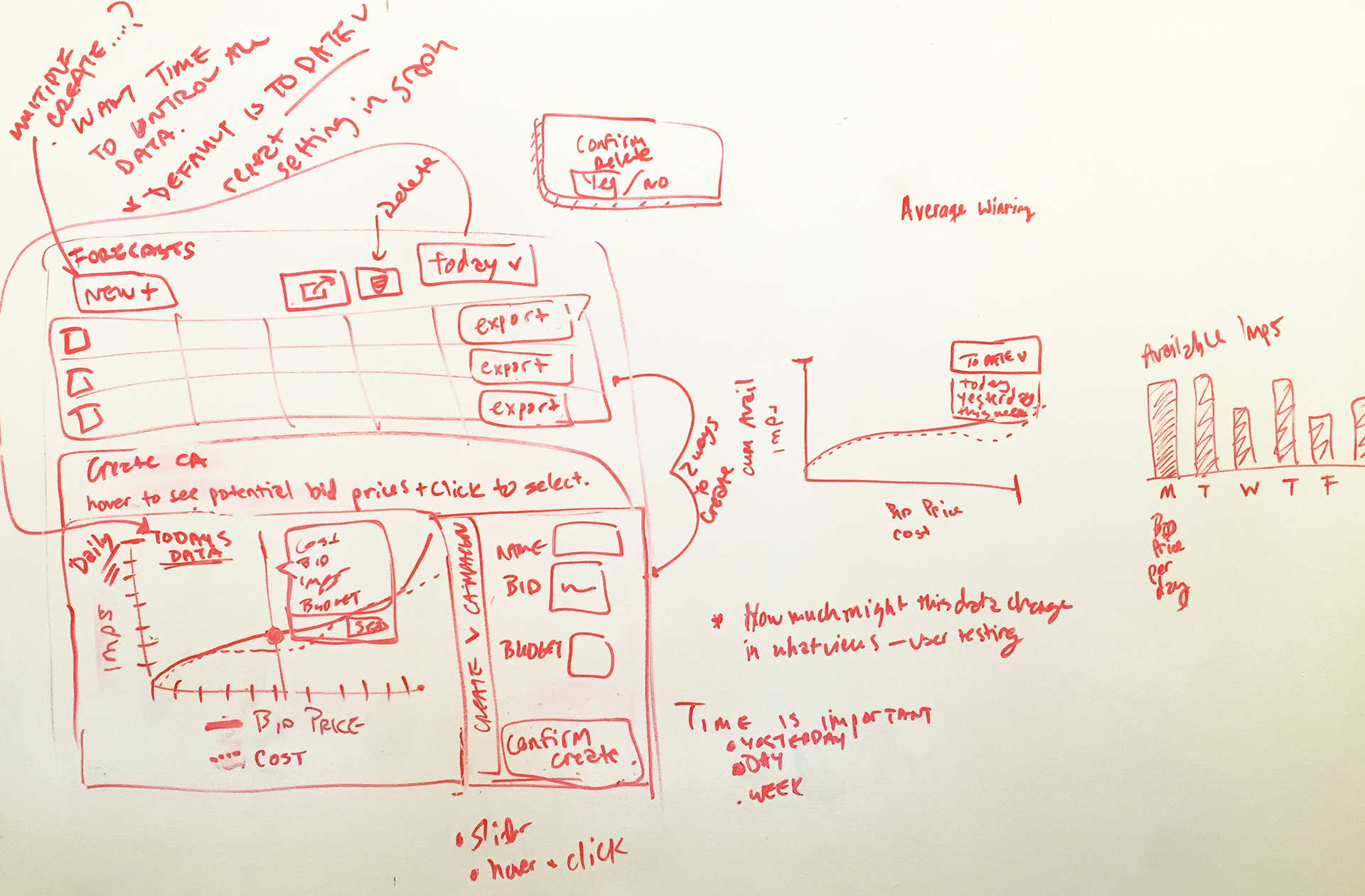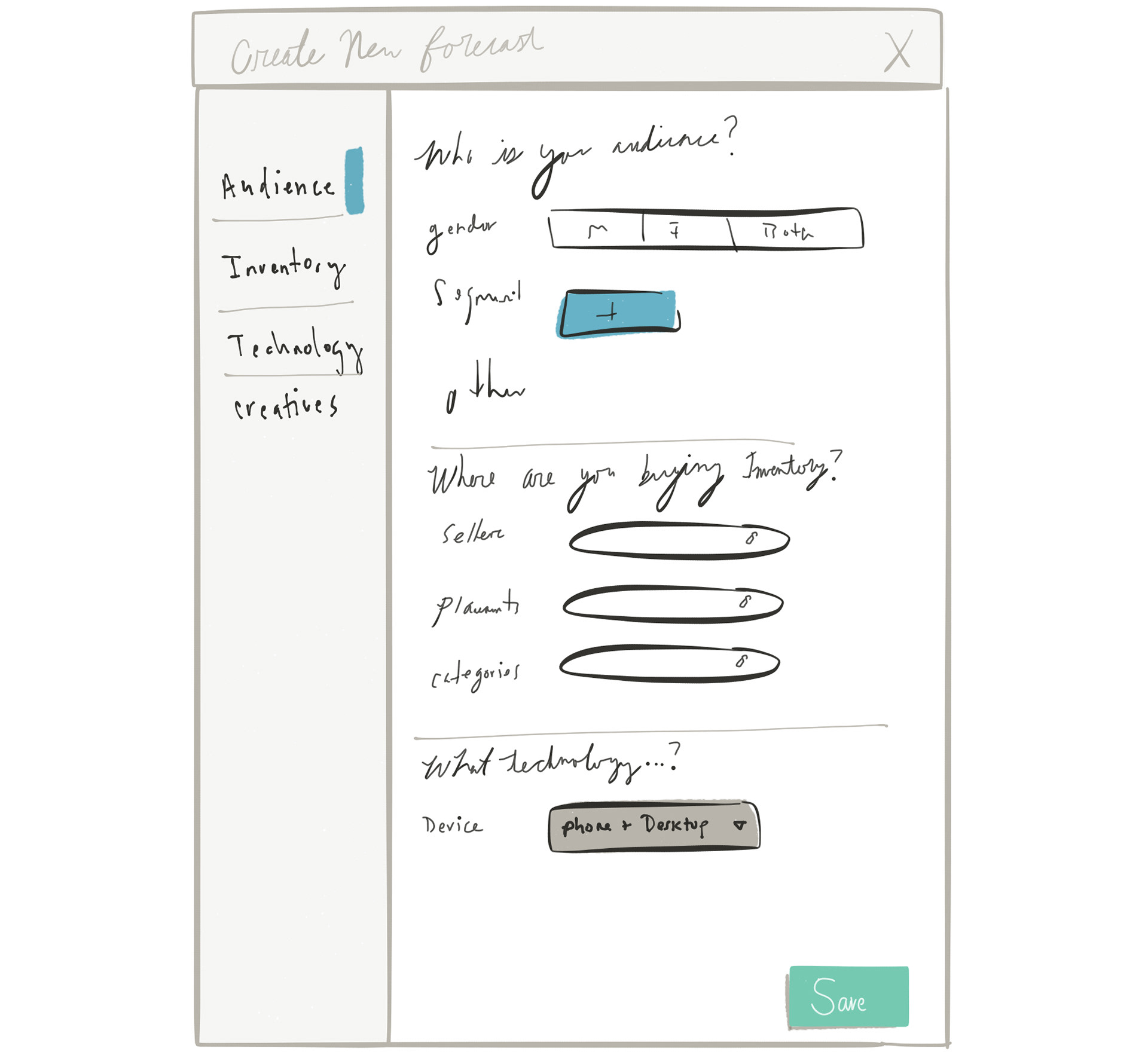 Usability Testing
We tested the designs through moderated and unmoderated tests. Overall, the results were positive but take a look for yourself.
What we learned: 
- Perceived usability and efficiency of forecast setup was high: "This feels really easy to use." 
- The organization of settings fit customer schemata: "I like the way this is organized" and "It's so easy to find what I am looking for." 
- Waiting for a forecast to process annoyed users; they did not know when the results would be ready. 
- Personable language within the interface was pleasing.
- Labeling of forecast results within the grid confused users.
Due to technical limitations, immediate forecast results were not possible. However, I did address a few concerns by showing users how long a forecast would take to process and letting them know when it was done (via a notification). Labeling was an easy fix for our documentation team thankfully! 
The Solution
Our tool allows users to forecast availability and cost data based on a set of criteria provided by the advertiser (creative type, audience targeting, etc.). Users can create multiple forecasts at once, compare them, and dig into ones that are most promising. When their proposal is accepted the user can transform a forecast into a campaign that will spend real money.
Creating a New Forecast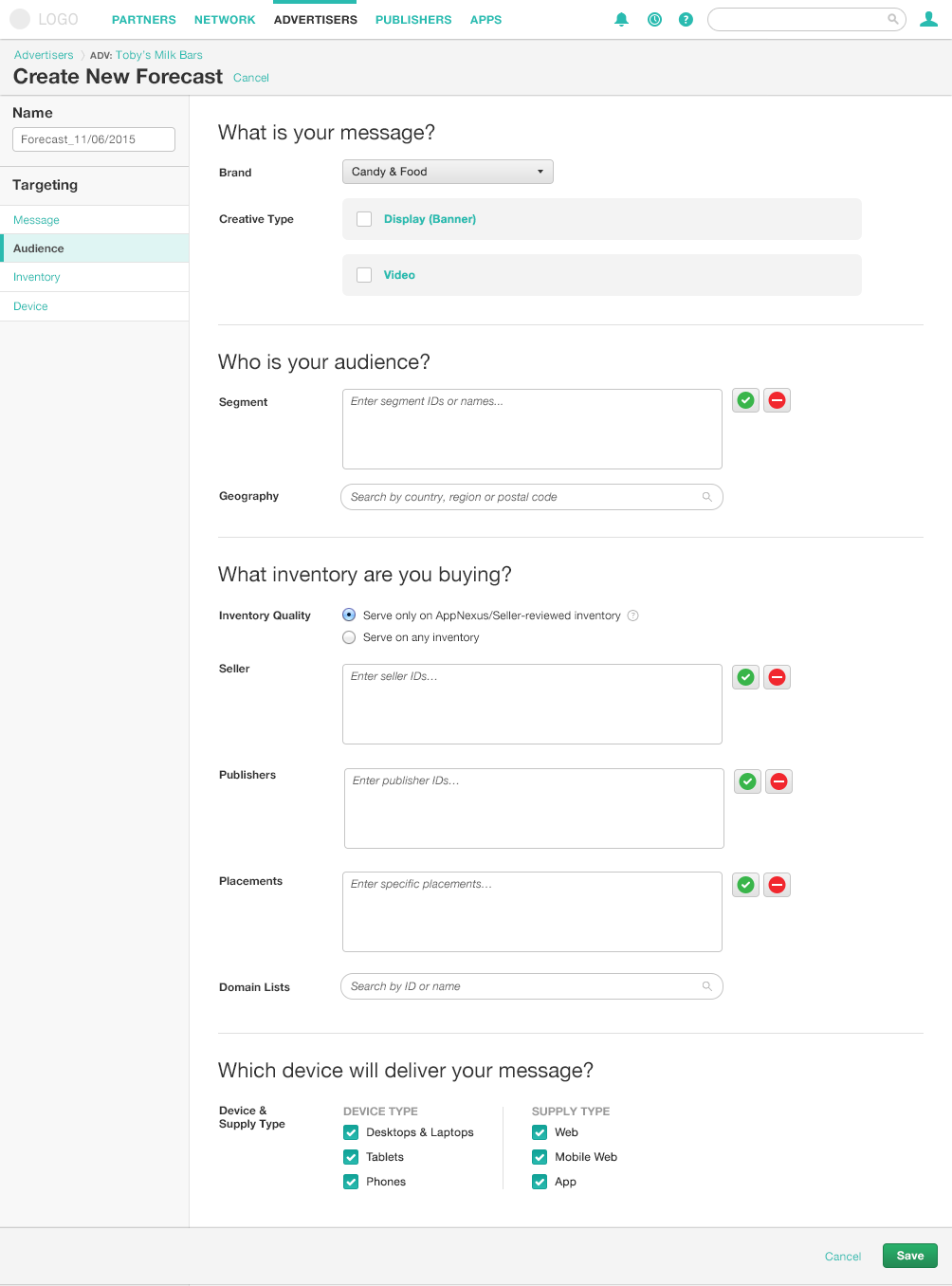 Product Presentations by Team Periscope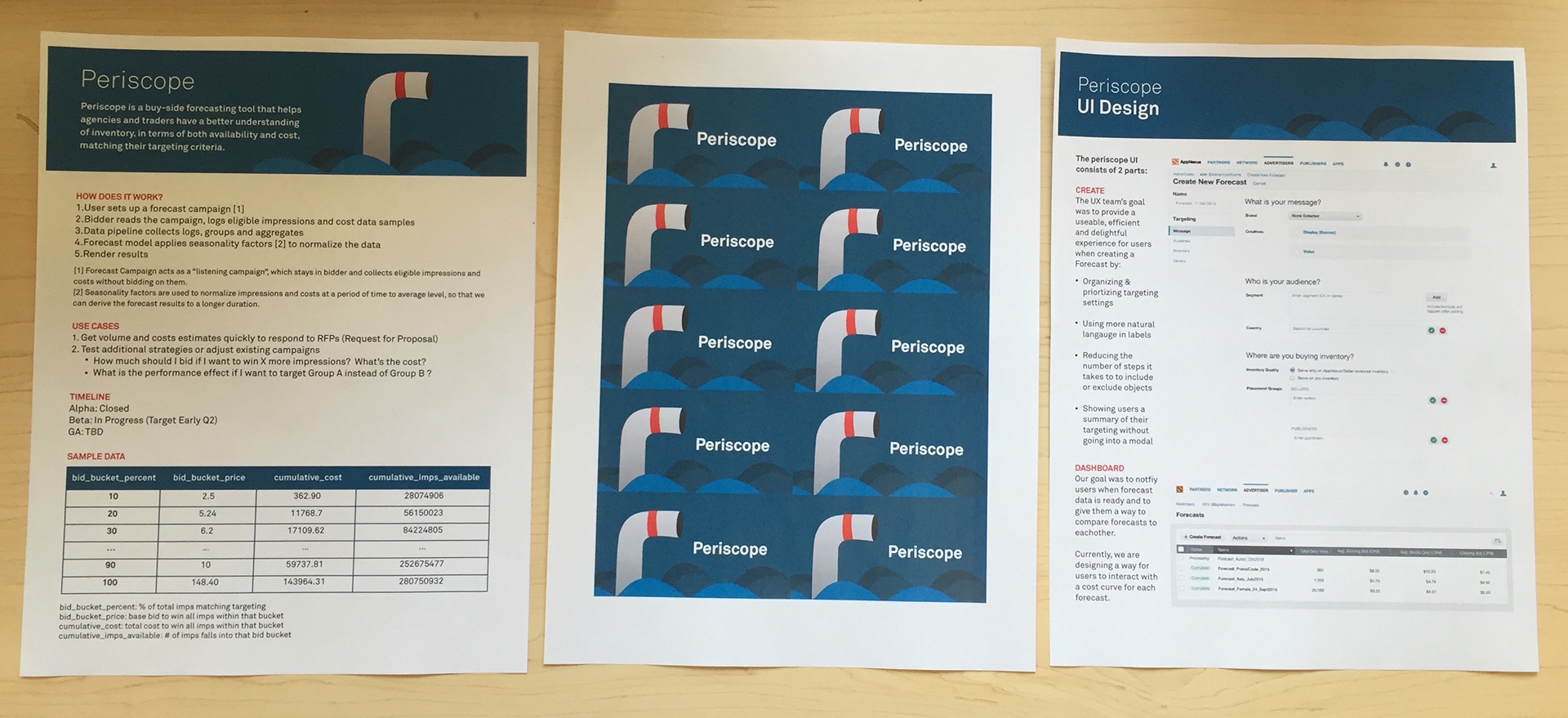 Project Takeaways
Perceived efficiency is important
Task completion time was relatively similar to our other setup designs but we found that perceived efficiency was much greater. By breaking our setup flow into steps and reorganizing the settings to fit customer schemata it felt easier to use. 
Users like a sense of flow 
You know that sense of focus you have when completing a task? You have a goal, you turn on your music and you get to work. Hours might pass without you even realizing it. Users love this! Our design used in-line validation to help users maintain that sense of flow by letting them know when to progress and when to fix errors. 
Recognition is easier than recall 
Providing recently used selections helps users make decisions more quickly. Rather than having to browse or search to find what they are looking for, we predict what they might need based on previous or common selections. 

Interaction flows save time
Creating interaction flows helps designers understand all of the edge cases that exist in a design and clearly communicates theses different states to developers. It prevents additional questions from being asked during the development process.